BACK TO BLOG
Audigent's Cannes 2022 Recap
Posted on Jun 29, 2022
From learning about how businesses can empower and amplify female leaders, to shifting dynamics within the realm of data and identity, the Audigent team had an incredible time connecting with an impressive roster of partners at Cannes 2022.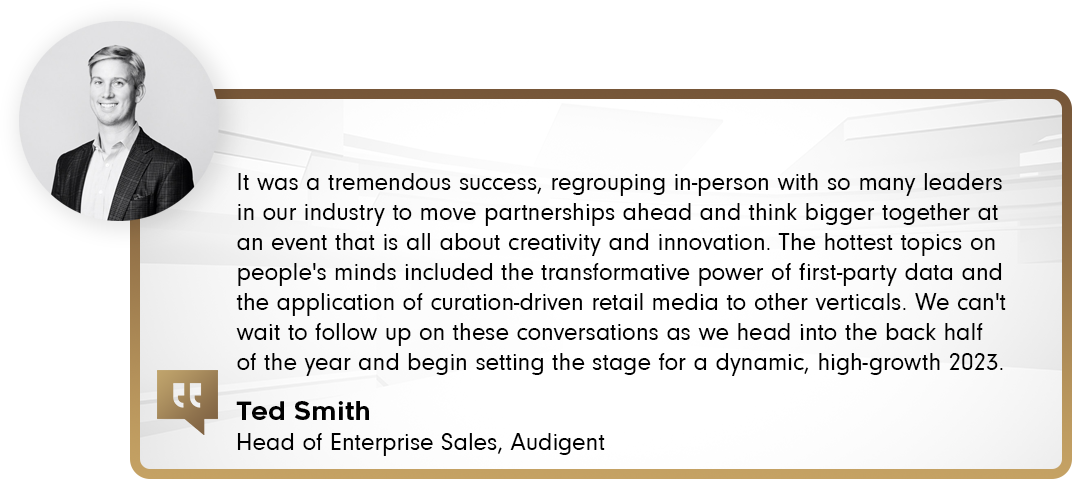 Empowering Female Execs in Tech
How can leaders empower and amplify women within their organizations to rise to the top, while also making room for more women to join the ranks? Check out the conversation from the Equality Lounge at Cannes Lions 2022, to hear industry leaders share what resources have helped them climb their professional ladders.
• Amber Coleman-Mortley, Director, Innovation, The Female Quotient (Moderator)
• Drew Stein, CEO and Co-Founder, Audigent
• Erica Schmidt, Global CEO, Matterkind and Chief Culture Officer, Kinesso
• Dominique Kirmann-Demoux, Global Consumer Experience Excellence Director, Mondelez
How Flexibility in the Workplace Offers Opportunity for Women
How does a more fluid approach to work assist in the retention and advancement of women in the workplace? Listen to this conversation that took place at The Female Quotient's Equality Lounge at Cannes to explore how companies can develop innovative approaches to employment that take full advantage of this new model and the often-untapped expertise of women in mid-career.
• Ronda Carnegie, Chief Innovation Officer, The Female Quotient (Moderator)
• Gina Cavallo, Chief Revenue Officer, Audigent
• Nola Solomon, Senior Vice President, Go-to-Market, Criteo
• Marcy Q. Samet, Chief Growth Officer, McCann Worldgroup
• Kathryn Spaeth, Global Chief Transformation Officer, Wavemaker

614 Group & Audigent's Drew Stein Discuss Data & Identity
Hear Audigent's CEO and Co-founder, Drew Stein, speak with 614 Group about the rapidly evolving identity space and how advertisers need to be realistically preparing.
Reach real people, make real connections, and drive real brand conversations.